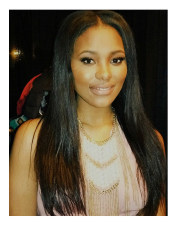 2011 Bishop Kearney graduate, Kade Henderson was recently crowned Miss Black New York USA 2015.  Born in Hartford, Connecticut and raised in Rochester, New York; Kade attended Buffalo State College and is a Fashion Merchandise Management graduate from Fashion Institute of Technology(FIT) where she specialization in Product Development.   She is national wardrobe stylist for Vogue, Elle, Cosmopolitan and other clients. Her passion as a fashion entrepreneur is inspired by encouraging fashion conscious individuals to develop a sense of personal style and embracing everything about self. Kades Mode (Fashion Brand Business) is based in Rochester, New York.
Kade's acceptance of the highly-prized crown is just the beginning. Upstate NY Gospel Magazine sat with Kade to talk her about life, fashion, and the Miss Black USA pageant.
What is the importance of fashion/style for African-Americans in a time of Michael Brown, Trayvon Martin, inequality in pay and education where does style fit in?
Thank you, this is such an important topic that resonates between many individuals with leadership platforms. I personally find this to be such a touchy topic to begin with, because there are so many perspectives and information out there that is highly missed and overlooked due to the inequality of race out of many other pressing concerns.
My company's mission statement is "Style because the first thing judged is appearance".  With this in mind, first impressions is a crucial aspect of advocacy.
As a result, I find it very important to always put your best foot forward in the education that you receive about these causes to be well informed, but to also carry that advocacy through dressing the part through wardrobe.
Upstate NY Gospel magazine is a faith-based magazine how strong is your faith?
Faith is the foundation of my life. For without faith the essence of Kade's Mode wouldn't exist.
What challenges have you had to overcome?  Your message to black youth, particularly young females, what's next in the Black Miss USA Competition?
I am the product of poverty. I am the 6th out of 7 on my mom's side and the 4th out of 15 on my father's side. Growing up was like living with a football team that valued sportsmanship. My passion for fashion evolved out of the lack of clothes. I was bullied for finding myself throughout elementary and middle school because I didn't have the knowledge or means to wear nice clothes. I was the young lady who ate in the bathroom because I didn't fit in. Meanwhile, dressed up in my brothers or relatives clothes.
Out of many other challenges, these specifically shaped me into a wardrobe stylist turned fashion designer. My message to youth in general is to stay strong, and value education regardless of your immediate surroundings. Keep the eye on the prize, and decide that your dreams are more important than anything you could ever imagine. As a result, everything you do should flow from the top and be a product of your passion.
Moving onward, my platform is education, arts and poverty. Each of these topics are dear to my heart, because growing up in Rochester, New York as an inner city kid I was at a great deficiency from other peers when I started off in college. As a result, it's important to me extend this conversation further. Arts, education and poverty are real topics. Injustice anywhere is injustice everywhere.
I was a part of the 8% of African Americans who graduated from Fashion Institute of Technology in 2014. A well known school worldwide for fashion. Out of the 206 shows this Fashion Week, 3 of them are African American Fashion Designers with a global reach. However, 2,6 % including those 3 are African American designers that are showcasing overall.  Governor Cuomo just submitted his budget cuts and he plans to take out 1.5 million dollars from EOP. We're talking about a program that is designed for minorities whom are at a disadvantage. Jobs, positions and admissions will be affected if this budget cut goes through. That means that 8% who graduation from FIT as African American can be reduced to 4%.
$900 million: Number of dollars NYFW brings in for the city according to a study by the U.S. Congress Joint Economic Committee. With African Americans projects 1.3 trillion buying power in 2017.
With all of this information, there's a missing link somewhere and I hope to advocate for the cause.
What are the perks of being Miss Black New York?
The perks are endless. Miss Black USA is a non profit organization founded by Karen Arrington, focused on changing the perception of African-American women and their portrayal in media out of many other purposes. A cause so significant warms my heart in itself. The community and the support that's provided from the organization. The closeness by Karen Arrington and the care that Miss Black USA provides through out my reign is rewarding. This opportunity allows for me to extend my story and conversation, to inspire.  Who could ask for more?
Your style advice to women and mothers?
I believe that multi-functionality is key.
Investing into pieces that can be worn in multiple ways and multiple times. Rather than quick fast fashion. My blog is dedicated to the style conscious individual to help women and mothers sort through fashion and finding those pieces that are worth the investment.
Kade also added that women have a very profound way of concealing the scars that they have endured in addition to sealing our truths.
Bullying and not fitting it affected my lifestyle and weighed on me heavily. I was the kid who ate in the bathroom, because it was more comfortable. All because I dressed, talked, and looked differently than my peers. I must admit, fitting in is still extremely hard to do. Therefore, I am making it my story to be a part of the solution and perhaps start with the problem. One of my dreams are to serve as an advocate firsthand, where I can promote empowerment and self-awareness. My greatest intellectual endeavor could be my academic success in my short time during my undergraduate career at Fashion Institute of Technology (Associates Degree Fall 2014, expected Bachelors of Science Fall 2015). But, I would like to believe through my mentoring and voluntary work with young girls to develop presence and etiquette, that my greatest endeavor intellectually could be to help in the development of confidence in young women by serving as an example that it is not where you start or what you have that define you. But it is your integrity, your intellect, your morals and most importantly your character. I will not deny that some pageants are nothing more than a group of outsiders judging someone on their physical beauty, but most pageants are much more than just that. With talent and interview platforms, and question-answer segments, pageants are moving away from aesthetics and forcing contestants to be well-spoken, knowledgeable, and graceful young ladies who are passionate about a purpose.
Her reign as Miss Black New York USA 2015 will take her from coast to coast sharing her platform, "Perfecting Your Voice: Protecting Arts and Wellness in Education" and act as the official Miss Black New York USA ambassador. This summer, Kade will compete for the Miss Black USA 2015 title in Washington, D.C. August 5th-9th, 2015.The Miss Black USA Pageant and Scholarship Foundation, Inc. provides young African American women with a vehicle to further their personal and professional goals and instills a spirit of community service through a variety of nationwide community-based programs.
For more information and sponsoring opportunities visit us at www.KadesMode.com, or www.MissBlackUSA.org.